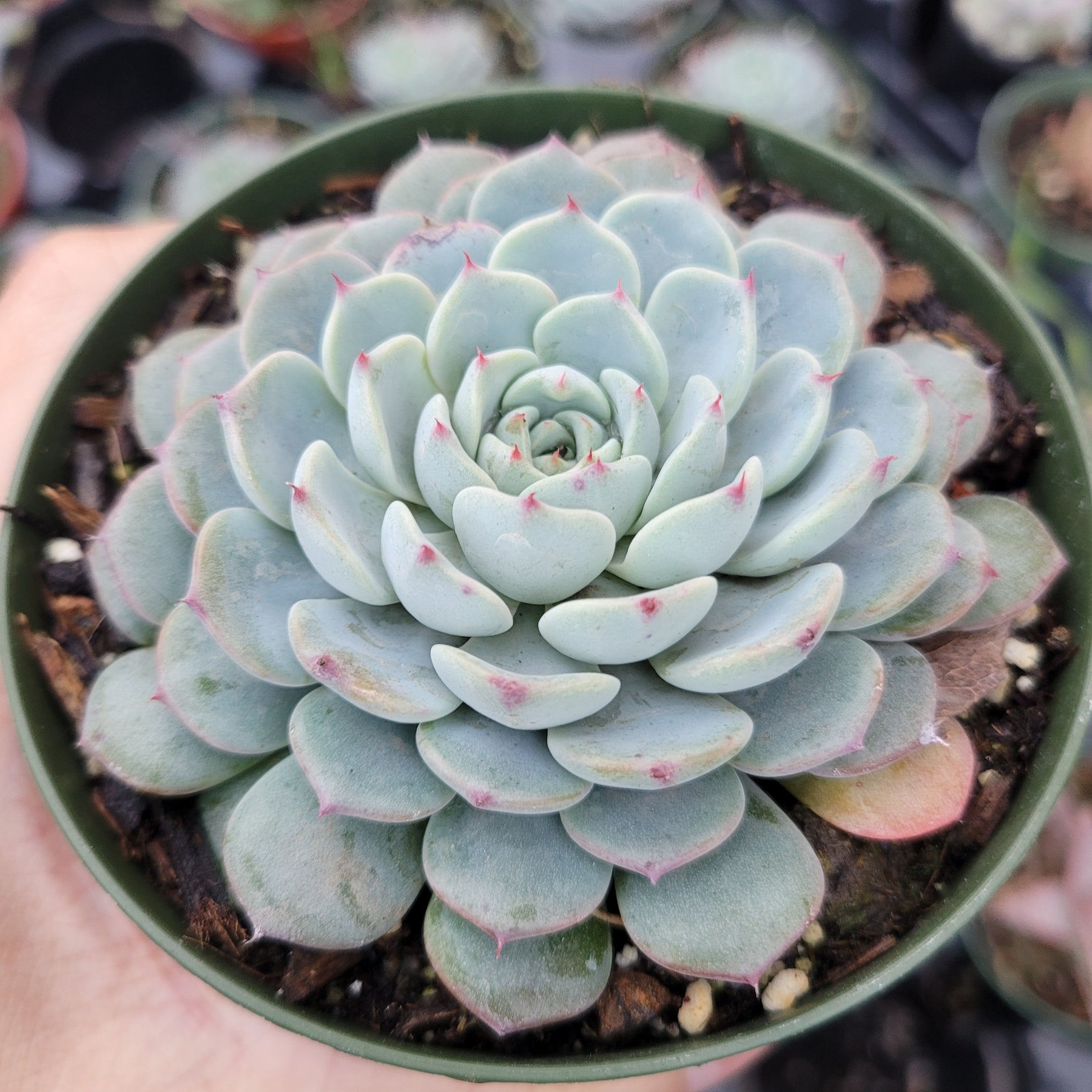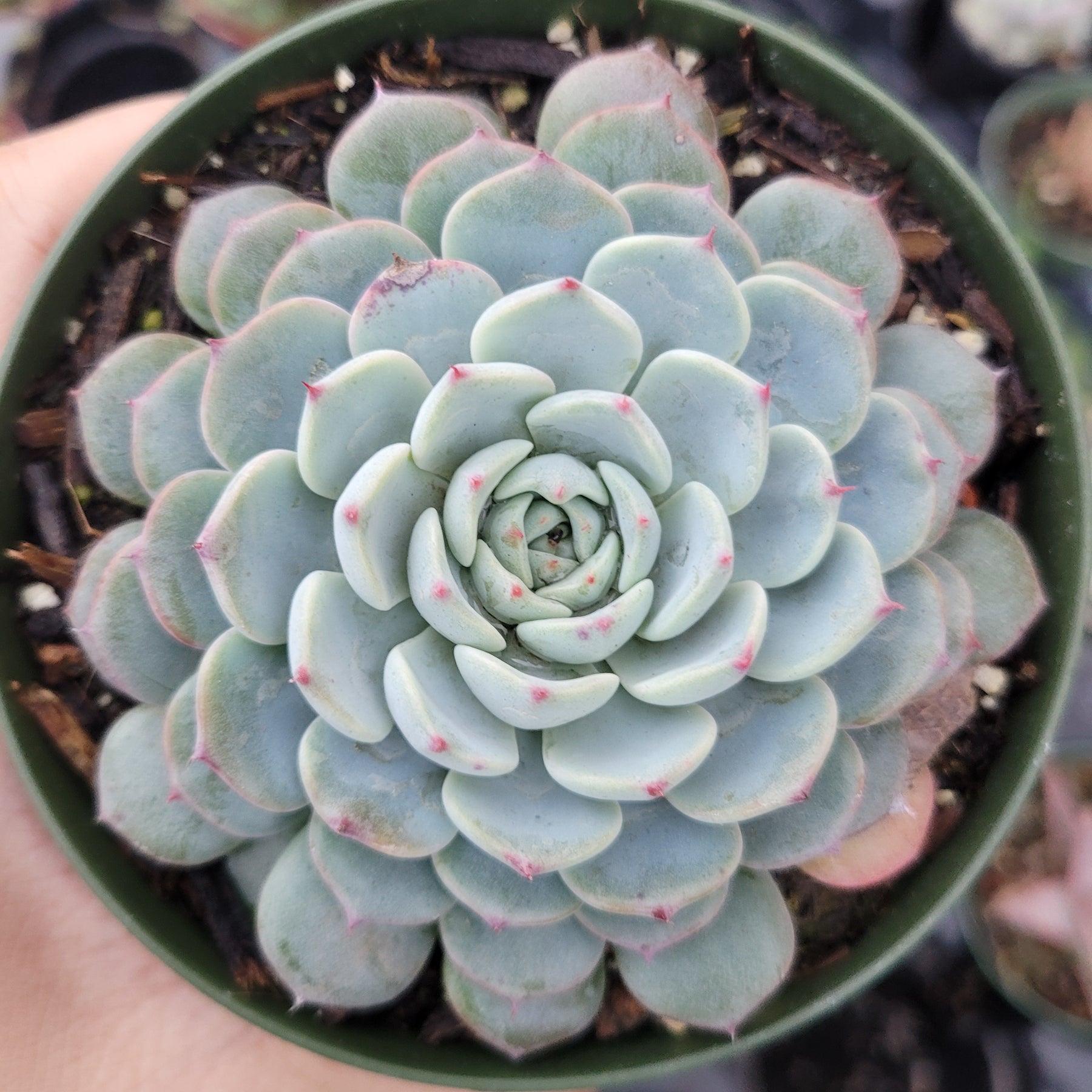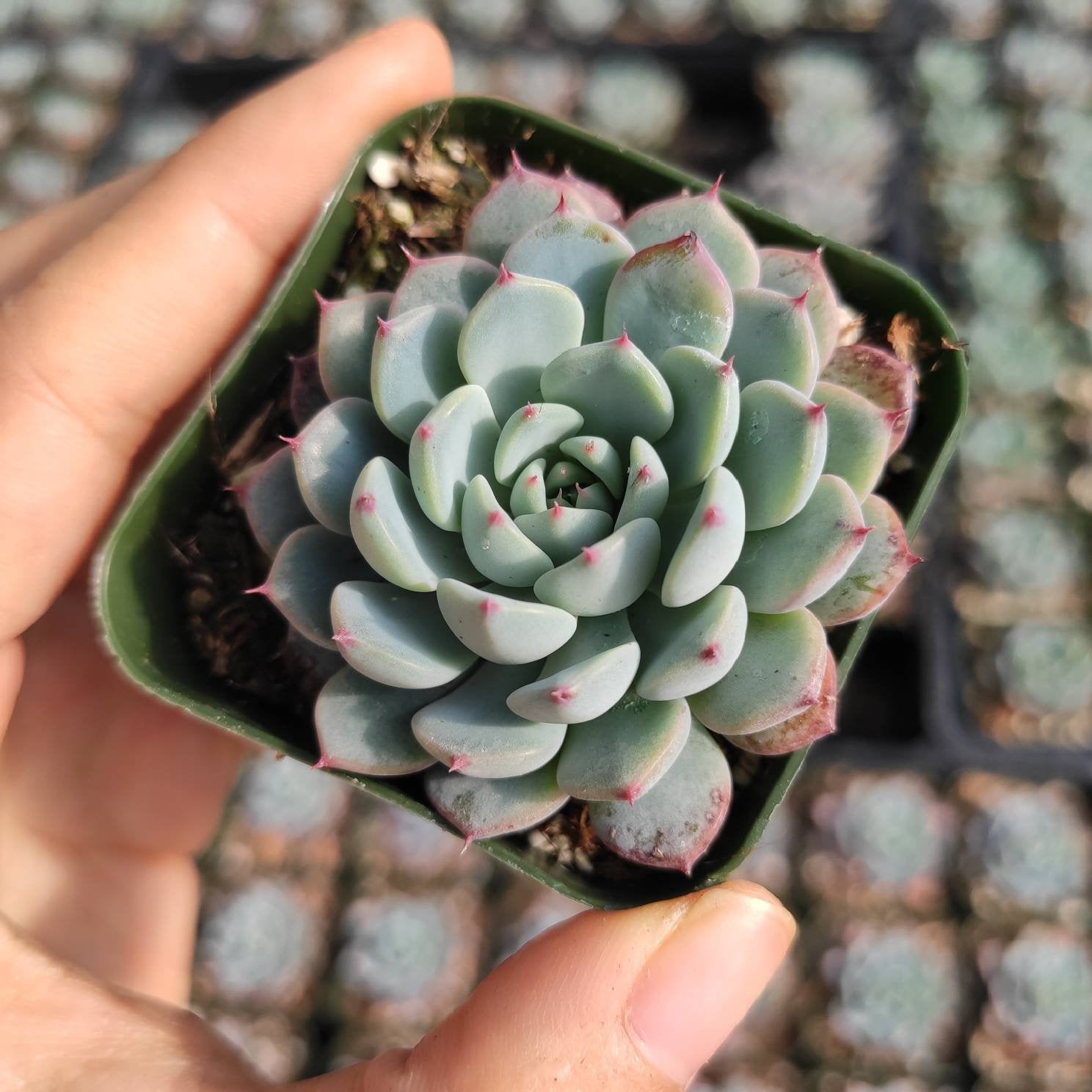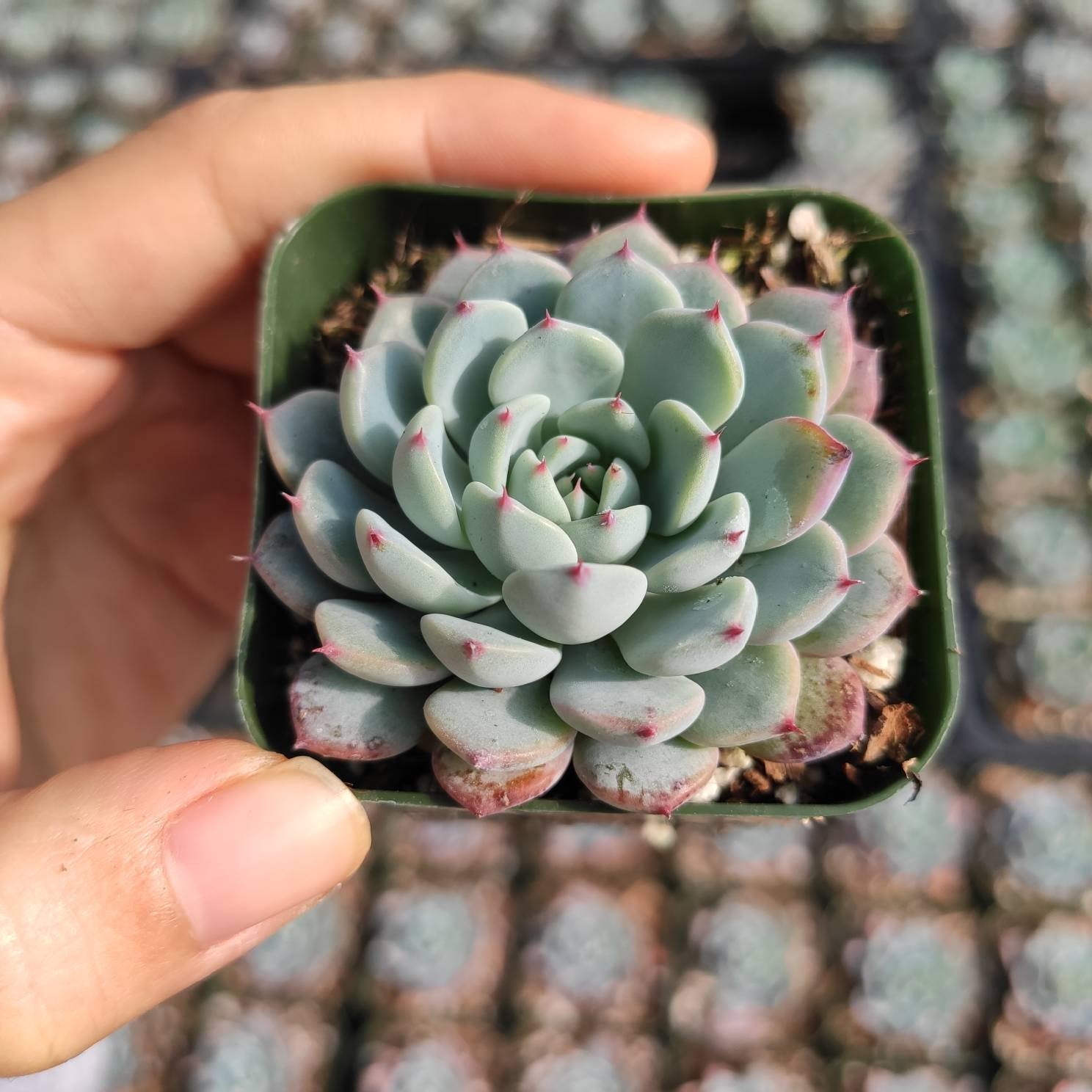 Echeveria White Minima
Cold weather? Protect your plants with a Heat Pack for as low as $2.30
Echeveria White Minima are part of the Crassulaceae family and are native to Mexico. Their leaves are usually a white bluish-green color with edges that are red. The diameter of each of the rosettes can be up to 1.6 inches. In the spring, there can be yellow flowers that appear. 
These gorgeous plants would make a wonderful addition to your garden. 
Care Tips
Light: These plants require bright light but avoid direct sunlight most of the time so the leaves don't get damaged. 

Water: The watering method is very important to keep your plant healthy. It should not sit on the water, and an excess amount of water should be avoided. The best way of watering is using the soak and dry method. 

Soil: Only need to ensure that the content of granular soil is more than 50%. In general, you can use the ratio of charcoal soil, perlite and coarse river sand mixed, and then add some well-rotted organic fertilizer to the soil as a base fertilizer.

Potting: It is recommended to use ceramic pots. Ceramic pots have a certain degree of permeability. Clay pots lose water too quickly, and plastic pots tend to retain water for too long and permeability is poor. 

Temperature: Suitable temperature is 50-77°F (10-25°C). General indoor temperatures are appropriate.

Humidity: They grow well in average household humidity levels when grown indoors. Normal household humidity is good for this plant. 

Shipping & Handling
The 2 Inch Echeveria White Minima plants are shipped with the pot and soil
The 4 Inch and larger plants are

 

shipped bare roots without the pot and soil:
You will receive a very similar plant to the one shown in the photos; shape and color may vary

Ship within USA & its outlying territories only
Please visit

 

Order Processing & Shipping

 

info page for additional details

Care Instructions
Please visit our Succulent Care info page for more details.
To ensure the health of succulents, it is important to plant them in porous, well-draining soil. Succulents require little watering, but don't like to sit in wet soil. To create an adequate cactus mix, simply add pumice, perlite, or grit to cactus soil to provide the proper drainage.
Make sure to leave drought periods between waterings to prevent the plant from water-logging.
Weather Conditions
When ordering, be mindful that living succulents can be damaged by the cold weather.
If you live in an area that is below 40 degrees Fahrenheit, please add a shipping warmer to your order or consider purchasing plant until the weather is more suitable.
Shipping Warmer:

 

72+ Hours Heat Packs

 

available for $1.7 each
Packaging & Handling
Vast majority of our plants shown in 4 Inch pot and above are shipped bare roots (See below for more details).
Most plants shown in 2 Inch pots are shipped in their original plastic pots with soil because they are small and are less subject to damaging during transit.
We carefully wrap each plant with wrapping paper and place them securely inside the box. Then, we fill the remaining space in the box with newsprint paper, air pillows, or crinkle paper to ensure the plants don't move around during shipping, and hence minimize shipping shock.
Shipping with Pots
The plants listed below are shipped with the pot and soil to ensure that they can stay healthy through transit:
Most plants shown in 2 Inch pot (exclusion applies, some 2 Inch plants are shipped bare root to provide

 

better protection)
String of Pearls in 2 Inch and 4 Inch pot
Variegated String of Pearls
String of Hearts
Variegated String of Hearts
Shipping Bare Roots
Shipping bare roots and soft paper wrapping provide the following benefits:
Prevent broken parts, fracture, scuffing, and fallen nodes/leaves
Minimize residual moisture within

 

the package
Prevent soil getting into the leaves and causing a big mess
Reduce shipping weight and the cost that our customers pay
Shipping Practices
In order for our plants to arrive at your front door in great condition, we have established the following shipping practices to ensure a safe arrival: 
The succulents are removed from their nursery pots, stripped of their soil, and set aside to dry if necessary.
Each succulent is then wrapped in paper to protect them during transit. It serves two purposes; a) to protect the plants from one another and b) to wick away any residual moisture from the root system.
The wrapped plants are then packed into a cardboard shipping box. The voids within the box are filled with eco-friendly newspaper and magazine paper, in order to prevent movement of the plants within the box, and hence minimize shipping shock.
While this process requires a significant time investment, we feel it's the best way to demonstrate our commitment to delivering high-quality plants in great condition.
We handpick the succulents and only ship out the most beautiful and healthy specimens. If you have any concern about the health and shape of your plants, please contact us immediately. We are always here to answer your questions.
Shipping Rates
Our shipping rates are calculated based on the total weight of purchased items. Free Shipping is available when your order total is $49 or higher.
If your order is over 1 lb, the shipping rates will be charged at the next full pound rounded up. For example, if the current items in your cart weigh 1.2 lb, you could add more plants to your cart up to a total weight of 2 lb without incurring extra shipping cost.
Here are some weight range for different sizes of plants. The actual weight for each item might vary:
2 Inch Plants - 0.15 - 0.2 lb each
4 Inch Plants - 0.3 - 0.4 lb each
6 Inch Plants - 0.5 - 0.7 lb each
8 Inch Plants - 0.7 - 1.2 lb each
Order Processing
Plant orders are shipped within 1-3 business days from the date of purchase. We thank you for your patience as we are always working as hard as possible to pack and ship your orders.
The reason why order processing could take up to 3 business days is because when plants are removed from the soil in preparation for packaging and shipping, we need to wait for the plants and roots to dry out. This can ensure that they can stay healthy over the course of transit.
Occasionally, additional processing time may be required for restocking inventory between our nursery and store.
Additional processing time may be required during Sale or Promotional periods due to above average order volume.
If you need your order urgently, please contact us via chat or support@succulentsdepot.com to inquire about estimated handling time before you make your purchase.  
Combined Shipping
If you place multiple orders within a short time frame, we may combine your orders and ship all your items in one package. A refund is not automatically given because each order requires time and labor to process, and in many occasions, combined shipping cost is only marginally lower because of the increase in shipping weight or possible Priority Mail shipping upgrade.
Shipping Methods and Transit Time
We ship our plants Monday through Friday, all twelve months of the year.
We partner and ship our orders with multiple major USPS carriers, including USPS, FedEx, UPS, and DHL. During the checkout process, you could select the shipping service that you prefer, and we'll try our best to accommodate your request. When we ship out the orders, there are cases that we might change and upgrade your shipping service to 2 day shipping, such as FedEx 2Day Express, without further notice.
Please note that these shipping times are simply estimates and may take longer than anticipated. Succulents Depot has no control over what happens to packages after they are in the possession of the shipping carrier. If your order takes longer than the expected due to a mishap with the shipping carrier, don't panic; succulents are very hardy and can handle shipping durations of a week to 10 days quite easily.
Receiving and Opening Your Package
While meticulously packaged, the plants might still be unhappy with being in a dark box for a long time. Therefore, some may look slightly dull and wilted. Therefore, right after you receive the package, open it immediately.
Carefully and gently remove the packing materials. Don't put the plants in sunlight immediately. These are greenhouse grown succulents, so they need to get acclimated to sunlight gradually. Keep them in shade or indirect sunlight, and slowly introduce them to direct sunlight.
Give the plants a few days to recover, then repot if necessary and start watering. If you receive the plants bare root, immediately pot them in succulent and cactus soil mix, then follow the same instructions above. The plants should perk up after getting a good soak from watering.
Visit our Succulent Care page for additional info and tips.
Shipping in Summer
It is the responsibility of customers residing in areas subject to extreme heat waves to plan the shipments until the weather is safe for shipping. Please leave a note in your order or contact us to postpone or reschedule your shipments. Extremely high temperature can cause the plants to rot and die. Make sure to retrieve the packages as soon as they are delivered. Don't let the packages sit under direct sunlight for more than an hour.

⚠️ Succulents Depot is not responsible for damage done to plants by extreme weather. We cannot control the weather. Order at your own risk.
Shipping in Winter
It is the responsibility of customers residing in areas subject to freezing weather to purchase a Heat Pack. While heat packs do not guarantee protection from frost, they will help prevent damage from occurring. Make sure to retrieve the packages as soon as they are delivered. Don't let the packages sit under direct sunlight for more than an hour.
Heat Packs can be ordered here: 
https://www.succulentsdepot.com/products/uniheat-heat-pack

⚠️ Succulents Depot is not responsible for damage done to plants by extreme weather. We cannot control the weather. Order at your own risk.
Quality Guarantee
We provide Quality Guarantee for our items for 14 days from the date of delivery. If you have any concerns about the quality and condition of the items when they arrived, please contact us within 14 days of delivery. You must submit photos that clearly reflect the condition of the items.
We only ship out beautiful and healthy plants that are disease free and of good quality. That being said, we cannot control what happens to your order during transit. We cannot accept returns for plants because the plants cannot survive 2 way shipping.
Please track your package and open it immediately upon arrival.  Fragile plants such as bear paw, baby toe, etc. may break or lose a few of their leaves during transport.
If you receive your package and are not satisfied, or if your plants are severely damaged, please message us immediately. We'll try our best to accommodate you.
Covered by Quality Guarantee:
No roots
Root rot
Disease
Broken stems
Pest infestation (mealy bug, aphids, scale, etc)
Numerous broken or missing leaves
Incorrect or missing plant or product
Visible damage to pots, planters, or other accessories
Not Covered by Quality Guarantee (Partial credits may be granted subject to our review and approval):
Damaged items or missing parts for reasons not due to our error
Dried or wilted bottom leaves (naturally occurring in all plants; can be easily pulled off without damaging the plant)
Dried or wilted flowers / blooms (naturally occurring in all plants; can be easily pulled off without damaging the plant)
Potting soil on leaves (easily washed off with first watering)
A couple of broken, missing, or wilted leaves, as long as 75% or more healthy leaves remain intact
Minor color / shape differences from photograph in product listings (many succulents change color / shape continuously)
Items damaged due to cold weather and a heat pack / shipping warmer is not purchased
Repotted plants that were shipped in the original nursery pot
Plants that fell off from the original nursery pot with stems and roots being intact and 75% or more healthy leaves remain intact
Minor fungas gnats infestation
Assorted products that differ from product photograph (EG: collections and trays where selection is our choice)
Package not received claims when proof of delivery is provided by the postal carrier
Packages that arrive late because of shipping delay with the carrier
Packages that are forwarded to a different address than the designated shipping address
Any issues with the plants after 14 days of delivery
Plants may be slightly larger or smaller than the pot they are grown in, depending on availability or time of year. Sedums such as Cherry Tart and Lime Zinger are dormant in the winter, i.e. they wilt, start dropping leaves, and look dead. It's simply a survival mechanism that help succulents stay alive over the cold winter and gear up for warmer days ahead.
Refunds
We gladly offer refund, store credit, or replacements for your orders for reasons such as items arrived damaged, items not as described, items missing or not received, wrong items received, etc.
If you have any issues with your plant order, please contact us within 14 days of delivery: support@succulentsdepot.com
Please provide your order number and photos of the items and the package. If the items are damaged, you must submit photos that clearly reflect the condition of the items and/or damage to the shipping box.
Once your refund request is received, reviewed, and approved, your refund will be processed promptly. A credit will automatically be applied to your credit card or original method of payment, within a certain amount of days.
Late or missing refunds (if applicable)
If you haven't received a refund yet, first check your bank account again. 
Then contact your credit card company, it may take some time before your refund is officially posted. 
Next contact your bank. There is often some processing time before a refund is posted. 
If you've done all of this and you still have not received your refund yet, please contact us at support@succulentsdepot.com.
Gifts
If the item was marked as a gift when purchased and shipped directly to you, if your order qualifies for a credit through our Quality Guarantee, you'll receive a gift credit through email.
Replacement (if applicable)
We only replace items if they are defective or damaged. You don't need to ship the original items back to use. Please contact us at support@succulentsdepot.com to submit your replacement inquiry.